Golf can be an expensive game to play and I am sure we have all looked for a way to cut prices without cutting distance and accuracy. For the most part, we need to play a ball that suits each of us individually and not just what your favorite Tour player plays. That might even be one thing that is hurting you. On this list of the Best Budget Golf Balls, you can find balls that may suit you better than what Dustin Johnson or Rory McIlroy are playing. Some of the links on this page may be affiliate link in which our site get commission for marketing their products. This commission is in no way passed on to you, the buyer.
Golf Digest and GOLF.com, along with every other budget-ball list, recommend the 12th-generation SOFT FEEL.
The softest FastLayer core provides a transition from the soft inner core to the firm outer edge, behaving like it has thousands of layers. More distance comes from this core as it returns to shape quickly after impact. The Speed Dimple pattern consists of 338 aerodynamic dimples.
The 7th-generation SOFT SPEED LADY has an even thinner cover over a higher launching FastLayer core.
CHECK PRICE HERE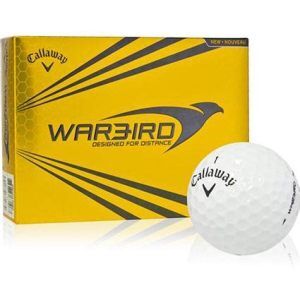 Callaway's least expensive option received almost as many mentions in the budget-ball lists.
An extra-large, high-energy, highly-compressible core requires little speed to compress. The HEX Aerodynamics reduces drag, which aids in increased speeds, hang time, and distance.
Callaway claims any swing speed will achieve maximum distance from this ball.
CHECK PRICE HERE
TaylorMade's least expensive option possesses spring-like energy transfer from max compression combined with an anti-sheer cover for durability.
Since TaylorMade took over production of the Noodle from Maxfli, some golfers report liking the Maxfli version better. Good reviews continue to pile up for the Noodle as it targets golfers swinging 70-85 mph. Older golfers tend to switch from the Long & Soft to the Easy Distance model as their swing slows.
CHECK PRICE HERE
The most expensive budget ball on the list also contains more layers. Soft Response consists of the ZnO Flex Core, SpeedMantle, and an innovative dimple design.
Moderate-swinging players can take advantage of the low, 35 compression of the Hi-Spring core.
SpeedMantle assists with energy transfer as the ball deforms and reforms.
TaylorMade's shallower, U-shaped Extended Flight Dimple pattern decreases drag and increases lift while lowering driver spin rates.
CHECK PRICE HERE
You get many of the Titleist technology advantages as about $20 less than Pro V1 pricing.
The TruFeel is the softest Titleist with a low-compression, TruTouch core, which generates low driver spin.
Titleist utilized its impressive research and development abilities to add a TruFlex cover with TruFit aerodynamics for a soft feel and piercing ball flight.
As with most budget balls, slower swings will benefit from the TruFeel.
CHECK PRICE HERE
Callaway uses the same HEX aerodynamics with the Supersoft as the Noodle but adds a Trionomer cover for a lower compression. The ultra-low compression core ranks this as an excellent option for slower swingers.
Reviewers consistently list the Supersoft as one of the best budget balls available.
CHECK PRICE HERE
The second-least expensive option on this list boasts a few mentions from budget-ball reviewers.
A rubber core that's 22% softer than other brands and responsive cover make for low-driver spin.
Senior golfers should find a friendly feel with the Fifty Elite.
CHECK PRICE HERE
The Golf Digest recommended Duo Soft+ comes in a little more expensive with its VelocitiCOR.
Based on Wilson tests in April 2019, the VelocitiCOR is the world's softest core. Wilson tests also concluded the Duo Soft+ to be the longest 2-piece ball in May 2019.
While those claims might seem a bit bold, they performed some extensive tests before they made them.
CHECK PRICE HERE
One of the more intriguing options on this list comes Dean Snell, who founded Snell in 2015. He worked in R & D with Titleist and TaylorMade before striking out on his own. Snell boasts 40-ball patents, including some of the most notable ball names on the market.
The low-compression core reduces spin rates, increases distance, and reduces hooks and slices. Despite the low compression, Snell claims the Get Sum will suit any swing speed.
CHECK ORICE HERE
Moderate swings can take advantage of this low-compression core, which aids in side-spin reduction. The new Dual Dimple Technology adds distance and increases roll.
Slower swings can use the e6 Lady, which boasts even lower compression than the standard e6.
CHECK ORICE HERE
The least expensive ball on this list is about half the price of most of those balls.
Low- to medium-clubhead speeds will benefit from the low-compression, Soft Energy Speed Core. The 312 dimples provide stability and distance while offering a tough, cut-resistant cover.
Vice adds a KIL (Keep In Line) stamp on the side with sharp edges for optimal alignment.
CHECK PRICE HERE
Time to buy
The best budget golf balls travel just as far as premium-priced balls. The performance difference between the two occurs on approach shots to greens. Unless you're consistently hitting greens in regulation, there's no need to waste money on high-end balls.
Every ball we identified on this list comes in under $25 per dozen and performs markedly better than the best budget golf balls of old.
Differences Between New And Old Budget Golf Balls
Covers mark the main difference between the two categories. High-end tour balls use urethane covers to bite and create more friction for greater spin and balls on the lower end of the price spectrum use Surlyn.
The 2-piece ball dominates the budget-ball market, but we did find one 3-piece ball for this list, the TaylorMade Soft Response. Premium balls come in 3-, 4-, and 5-piece varieties.
20-plus years ago, budget balls resembled rocks colliding with the clubface. No matter how well you squared them up, the result was always disappointing and often slightly painful.
With the new technology, the material might be different, the dimple-pattern technology comes from the same place as the Titleist Pro V1, Bridgestone Tour B X, or the TaylorMade TP5.
In general, tour balls also use high-compression cores and require a lot of force to compress the ball for tons of energy transfer. Without the power to compress the ball, you can't get the potential performance out of it. Lower compression balls don't need as much force to compress to create the spring-like rebound effect.
In this category, you only need to know the reactivity of the core and the cover. While ionomer makes up all the covers on this list, pattern, thickness, and dimples vary.
The questions to ask yourself while making this decision are:
What is my swing speed?
What is my acceleration point?
Do I tend to slice or hook?
Which shot do I struggle with most?
Now that we've freed you of the burden of spending $50 on a dozen balls, you have the freedom to experiment. Pick the option, or options, that makes the most sense to you and get it before your next round. Your wallet will thank you, and you'll find the ball that fits your game the best.