Golf writers love to extol the virtues of the almighty putter. They drone on and on about how many strokes the right putter will save you or how much you use the putter in relation to other clubs in your bag. Here is a list of the six best putters for beginners. Some of the links on this page may be affiliate link in which our site get commission for marketing their products. This commission is in no way passed on to you, the buyer.  
Their annoyance factor doesn't make them wrong. Putting, is the least sexy aspect of golf, yet holds the fate of your score.
Golf Sidekick suggests that one hour of putting practice per week can save you four to five strokes within a month. Sounds plausible, worth a try, and definitely doable for most golfers.
Before you commit to practicing, you need to purchase a putter that fits you. As a beginner, you may go for a cheap putter and put off buying an expensive putter.
Buying a quality putter now will increase your enjoyment of the game, and you don't have to spend $400. In fact, per the following list, you can spend as little as $100 on a brand new putter that will provide consistency on the green.
You shouldn't set out to buy a putter to last you a year. You need to buy a putter that you'll enjoy for a few years.
Through extensive testing, Golf Digest discovered mallet putters benefit the "vast majority of golfers." Mallets have more forgiveness, meaning you don't have to hit a tiny sweet spot on every stroke.
Mallets employ the moment of inertia (MOI) concept, which pushes the center of gravity away from the face to increase forgiveness.
Golf Digest states the most important factor is your ability to consistently roll the ball 20 feet. To achieve that, the putter needs to feel good in your hands. Seek to eliminate three putts and you'll enjoy the game immensely.
With a myriad of grip sizes, shaft lengths, and head styles, you've got a plethora of options. Using the following list, you can easily find a putter that fits your stroke, taste, and budget.
Several golf websites point to Cleveland's Huntington Beach SOFT putters as a top pick for beginners and high handicappers. Cleveland, which named the line of putters after their North American headquarters, packs innovation, technology, and style into a $130 package.
Among its accolades, the Huntington Beach collection earned five out of five stars for performance with its 2017 Golf Digest Hot List Gold Medal. This year, Golf Sidekick named the Huntington Beach SOFT the "best budget-friendly modern putter for beginners."
Huntington Beach SOFT offers six shape and design options including varied blade and mallet choices. You'll find the putter you need to fit your particular stroke arc and style preference.
The head weight of the Huntington Beach SOFT models ranges from 345g to 370g of 304 stainless steel.
The low center of gravity combines with a coarse Precision-Milled Face made up of a diamond CNC milling pattern. Speed Optimized Face Technology (SOFT) normalizes ball speed across the face increasing friction for pure roll and a softer feel at impact.
Cleveland offers four color-fill areas and 16 color options for customization.
For an extra $30, the Huntington Beach SOFT Premier offers a grey-satin PVD finish, which reduces glare at address. In total, the Huntington Beach SOFT series offers nine tour-proven shapes including five mallet and four blade options.
Ultimately, the Cleveland's Huntington Beach series gives golfers the most benefit with a low cost. The amount of style options and technology combined with the consistently low prices makes this option hard to refuse.
Wilson offers the most modestly priced options with its Infinite series. At around $100, the Infinite series includes eight classic head shapes with a surprising amount of technology for the price.
Counterbalanced technology brings the balance point closer to the hands for a smoother stroke. At the same time, a double-milled face helps with more consistent roll and distance control.
The new grip includes a perforated pattern with an oversized grip that limits rotation during the stroke for a more stable feel. A heavier grip construction of 104 grams creates a counterbalanced feel.
Wilson tops off the design with an ultra-dark, matte PVD finish to reduce glare at address and accentuate sightlines.
Golf Sidekick rated the Infinite series as a "sleeper pick."
Each Infinite series model carries a Chicago neighborhood or landmark name as a tribute to Wilson's headquarters.
The price, feel, and options of the Infinite series make it another putter that's difficult to pass up. You will not find a putter close to this precision at this price.
Few influenced putting technologies like Ping. Since the 1960s, Ping helped shape the design and evolution of putting technology.
At around $200, the Ping Sigma 2 series offers adjustable-length innovation with its 11 models.
Ping's research revealed eight of 10 golfers play with the wrong length putter. As a result of the research, they created the USGA-conforming, easy-to-use, adjustable-length shaft that allows golfers to choose from 32 inches to 36 inches.
The quick and intuitive process includes an adjustment tool inserted into a sleekly concealed mechanism at the top of the grip. Each full turn makes a quarter-inch adjustment, while the grip remains perfectly aligned during adjustments.
Ping's Dual-Durometer Face provides a soft and responsive feel from the PEBAX material. A soft front layer offers the right touch on short putts, while the firmer back layer delivers on longer putts. The TR technology face pattern produces full-face forgiveness from its varied depths.
Head weights range from 350g to the Valor 400 Counter Balanced. The Valor head weighs in at 400g distributing the highest MOI with a 38-inch shaft, 15-inch grip, and 50 grams added to the butt end.
Ping grip options include midsize, exaggerated pistol shape, and oversized.
Sigma 2 gives golfers Ping quality at a more than fair price.
Since the dawn of the White Hot, Odyssey has helped lead putter innovation. Stroke Lab represents their latest innovation with a complete redistribution of weight.
Through research, Odyssey found their weight redistribution showed improved backswing consistency, face-angle impact, ball speed, and ball direction. Golfers gain more control with the balance point moved closer to the hands.
They lightened the shaft by 40 grams and combined a graphite body with a steel tip. Two sole weights added 10 grams to the head and a 40-gram weight added to the grip end weight.
The result is a more acute feel from a slightly stiffer shaft with lower torque. These combined factors help the golfer repeat the same motion.
Stroke Lab prices range from $200-$300 and offer various mallet and blade options including the iconic 2-ball option.
Dozens of embedded microhinges on the face deliver the legendary White Hot feel promoting topspin for a smooth roll and acute distance control.
Despite being out of production, several golf sites still recommend the Odyssey Hot Pro 2.0. Golf Sidekick named it the "best putter dollar for dollar," while claiming the insert is the best Odyssey has produced.
Odyssey refuses to settle and continues to live up to its innovative roots, so don't hesitate to jump on the Stroke Lab bandwagon if it fits your style.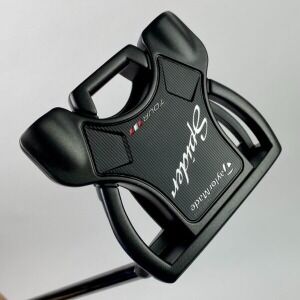 Most of TaylorMade's stock leans towards the higher end of the price range. The Spider Tour Black costs around $200 and delivers on many of the aspects beginners need.
With perimeter weighting for added stability, this high-MOI mallet originates from a 6061 aluminum core and a 304 stainless-steel frame. PU Foam, embedded between the aluminum and steel, dampens vibration for premium sound and feel.
The face insert utilizes Pure Roll performance increasing topspin with 45-degree grooves and a softer polymer.
Take into consideration the Super Stroke Pistol GTR 1.0, and you can land an impressive amount of Tour-level technology at an excellent price.
While relatively new on the putter scene, SeeMore putters bring an intriguing alignment system that should appeal to all golfers, especially beginners.
RifleScope Technology (RST) marries the alignment from rifle scopes to putters. A quick tour of SeeMore's website will show you the power of properly placing three lines and dot to put every putt on target.
For golfers who love blades or small mallets, the Original FGP Black, which costs around $200, delivers consistency on the green.
The majority of the weight on the 303 stainless-steel head sits behind the center. The face-balanced putter boasts a milled face and a black, powder-coat finish to eliminate glare.
SeeMore offers shaft lengths from 30 inches to 39 inches with standard or counterbalance.
While they don't have the name recognition, SeeMore does have the technology needed to help you on the green.
The green is where a lot of strokes can be added to your over-all score, and a putter that feels good in your hand is a must. It is not necessary to spend a ton of money on a putter if it is not right for your body, putting style and feel in your hands. We hope that this list of putters helps you find the putter that checks all of your boxes and lower your scores.